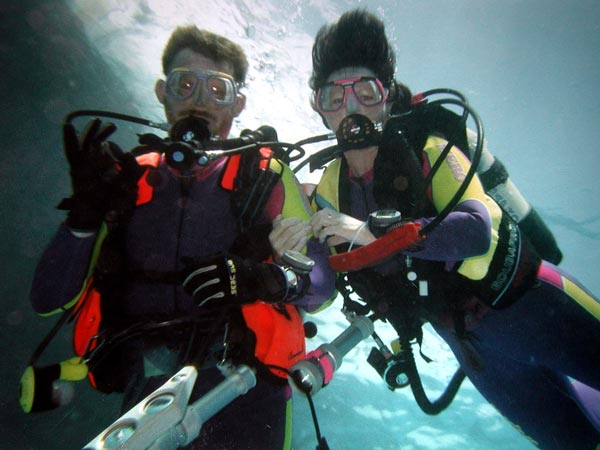 Nothing from this website may be reproduced or published by photocopy, micro- or video film, CD / DVD or any other digital media without written approval of the authors. (annenmat@natuurlijkmooi.net)
We started our dive-courses at the beginning of the nineties in the Netherlands, with a NOB dive-club. NOB is the Dutch branch of CMAS. We finished the training with a positive result, which did not mean that we knew much about diving, but we had a pretty good physical condition.

In 1996 we decided to buy an underwater housing, so we could take take some pictures during a diving vacation. It was a housing for a disposal cameras. The result was nice, due to the clear water condition in the Caribbean. Shortly after this we decided to buy our first real sub-marine camera, a Sea & Sea MM II camera with an external flash. With this camera we made our first pictures in the troubled Dutch waters.

A few years later, after we got interested in underwater biology. we decided again to invest in a new camera. We bought a digital camera, a Nikon Coolpix 990. The underwater housing was made by Sealux and the flash was by Subtronic . In the meanwhile we are tempted again and are we in search of a camera once more. We are very satisfied with our Coolpix combination, that we are still using today, but because we also photograph butterflies nowadays, we encounter the limitations of this camera.

The switch to butterflies was caused our move to Hungary. In the Netherlands not a week passed without a few dives. We were more and more interested in the salty waters. Unfortunately Hungary does not have a coastline and we had to escape to Croatia to dive. This is a 500 km journey to the coast and that is too far to do it each weekend.

The weekends that we stayed at home, we took long walks with our dog Charlie and that is how we discovered the great variety of butterflies that can be seen in Hungary. We often used to take a camera with us on our travels and returned home without a picture taken, with the exception of underwater pictures. So we took the camera with us on our first walks in Hungary, to take some nice panorama pictures, to show our family and friends back in Holland. When we discovered the colourful butterflies we could not resist to take pictures and a new passion was born.

We are no biologists and have to gather our knowledge from books and the internet. We try to do this as accurate as possible but still this is not exclude mistakes. We would appreciate it when you would mail us in case of errors. Also other suggestion to improve our site can be mailed to us, via the mail-links on nearly every page on this site.

Taxonomy

On taxonomic classification is much confusion, or disagreement. We have therefore decided to work with WoRMS (World Register of Marine Species) for marine species. For butterflies and birds, we use the classification of Fauna Europaea.